INTRODUCTION
ZimaBoard is a low-cost single-board server designed for makers and geeks.
Zimaboard has both the expandability of an x86 SBC and the appropriate power of a microserver. With ZimaBoard, you can setup a 4 Terabyte personal cloud in 5 minutes, configure a secure VPN to protect your digital footprint, tune your network with OpenWrt and pfSense, build a 4K media server that runs with Plex, share and collaborate with team members on your files, or upgrade your smart projects across different systems.
ZimaBoard is created by makers who got tired of recurring fees, unfriendly presets, and isolated systems. We want to make the home digital experience more attractive and affordable.
SPECIFICATION
Model: ZimaBoard 216/432/832
CPU: Intel Celeron N3350 Dual Core 1.1-2.4GHz (216 Model), or                    Intel Celeron N3450 Quad Core 1.1-2.2GHz (432 & 832 Model)
RAM: 2G/4G/8G LPDDR4
Onboard Storage: 16GB/32GB eMMC
HDD/SSD: 2x SATA 6.0 Gb/s Ports
LAN: 2x GbE LAN Ports
USB: 2x USB 3.0
PCle: 1x PCle 2.0 4x
Display: 1x Mini-DisplayPort 1.2 4k@60Hz
TDP: 6W
Dimensions: (W x D x H) 138.7 x 81.4 x 34.9 mm
Weight: 278g
Other Feature: Passive Cooling
                        Intel VT-d, VT-x, AES-NI
                        Support 4K video transcoding
                        H.264 (AVC), H.265 (HEVC), MPEG-2, VC-1
Pre-installed OS: CasaOS (Based on Debian)
Compatible OS: Linux / Windows / OpenWrt / pfSense / Andorid / Libreelec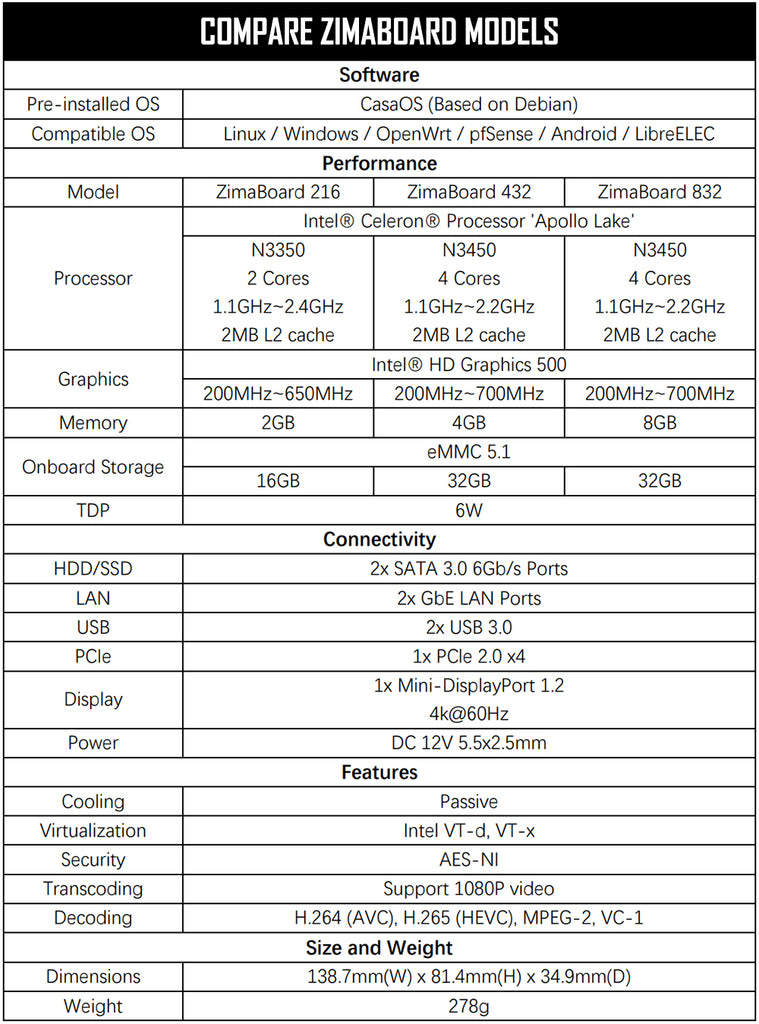 SHIPPING LIST
1x ZimaBoard 

216/432/832

1x SATA Cable

1x 12V/3A Power Adapter
DOCUMENTS
a good Server and Dev Maschine :)
I'm happy with my Zimaboard but in the first installations of my own Linux Distro I figure out the Internal Storage only works with UEFI Booting, this info have to know by each user in my case, in MBR Mode the Storages are tell me strange I/O Errors, but in UEFI all is fine now and the Zima runs 24/7 as a Dev Maschine for my QEMU Virtualisations Stuff.
ZimaBoard - Single Board Server for Creators
ZimaBoard - Single Board Server for Creators
Great as a media box, not so great as a firewall
I tried to use this initially as a BSD based firewall, and I couldn't get it to reliably route traffic. I tried changing every setting I could think of, but it just wouldn't work right.
I then repurposed it and am using it as a head for Kodi, and it is fantastic for that.
ZimaBoard - Single Board Server for Creators