INTRODUCTION
Why buy a regular ZimaBoard when you can get one that's unique and not many people own?
ZimaBoard is a low-cost single-board server designed for makers and geeks.
Zimaboard has both the expandability of an x86 SBC and the appropriate power of a microserver. With ZimaBoard, you can setup a 4 Terabyte personal cloud in 5 minutes, configure a secure VPN to protect your digital footprint, tune your network with OpenWrt and pfSense, build a 4K media server that runs with Plex, share and collaborate with team members on your files, or upgrade your smart projects across different systems.
ZimaBoard is created by makers who got tired of recurring fees, unfriendly presets, and isolated systems. We want to make the home digital experience more attractive and affordable.
Note: Back by popular demand, this is the first time this version is available individually since its original use case is for media reviews and backers only. For this first run, there were 100 units in green finish. As a limited-edition product, this product does not enjoy store promotional discounts.
SPECIFICATION
Model: ZimaBoard 832
CPU: Intel Celeron N3450 Quad Core 1.1-2.2GHz
RAM: 8G LPDDR4
Onboard Storage: 32GB eMMC
HDD/SSD: 2x SATA 6.0 Gb/s Ports
LAN: 2x GbE LAN Ports
USB: 2x USB 3.0
PCle: 1x PCle 2.0 4x
Display: 1x Mini-DisplayPort 1.2 4k@60Hz
TDP: 6W
Dimensions: (W x D x H) 138.7 x 81.4 x 34.9 mm
Weight: 278g
Other Feature: Passive Cooling
                        Intel VT-d, VT-x, AES-NI
                        Support 4K video transcoding
                        H.264 (AVC), H.265 (HEVC), MPEG-2, VC-1
Pre-installed OS: CasaOS (Based on Debian)
Compatible OS: Linux / Windows / OpenWrt / pfSense / Android / Libreelec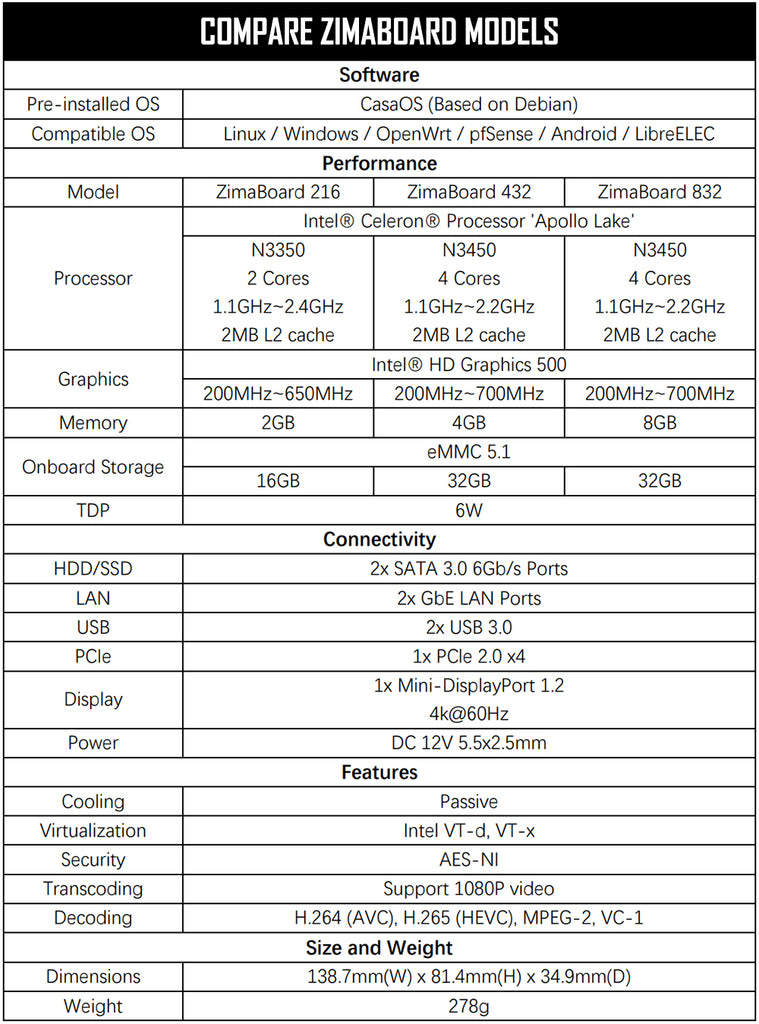 SHIPPING LIST
1x ZimaBoard 832 - 2021 Special Edition

1x SATA Cable

1x 12V/3A Power Adapter
DOCUMENTS
Great device for startup
I'm very happy to get this device. Quality is great. I've faced some difficulties to receive the product due to local post office delivery system. Anyway it's a great product
I´m using Zimaboard as Home Server. So many use cases.
Got a second one yesterday :-) will use it for pfSense
Perfect Home Server
Tried out several uses. Love the device. Will definitely buy a second one or the next version. Love it. Thanks
ZimaBoard 832 - 2021 Special Edition