INTRODUCTION
ZimaBoard is a low-cost single-board server designed for makers and geeks.
Zimaboard has both the expandability of an x86 SBC and the appropriate power of a microserver. With ZimaBoard, you can setup a 4 Terabyte personal cloud in 5 minutes, configure a secure VPN to protect your digital footprint, tune your network with OpenWrt and pfSense, build a 4K media server that runs with Plex, share and collaborate with team members on your files, or upgrade your smart projects across different systems.
ZimaBoard is created by makers who got tired of recurring fees, unfriendly presets, and isolated systems. We want to make the home digital experience more attractive and affordable.
Note:
From Nov 15, 2022, all ZimaBoard purchases will automatically include the corresponding power adapters (e.g. 1 board + 1 adapter). Purchase extra adapters 

only when needed

.
SPECIFICATION
Model: ZimaBoard 216/432/832
CPU: Intel Celeron N3350 Dual Core 1.1-2.4GHz (216 Model), or                    Intel Celeron N3450 Quad Core 1.1-2.2GHz (432 & 832 Model)
RAM: 2G/4G/8G LPDDR4
Onboard Storage: 16GB/32GB eMMC
HDD/SSD: 2x SATA 6.0 Gb/s Ports
LAN: 2x GbE LAN Ports
USB: 2x USB 3.0
PCle: 1x PCle 2.0 4x
Display: 1x Mini-DisplayPort 1.2 4k@60Hz
TDP: 6W
Dimensions: (W x D x H) 138.7 x 81.4 x 34.9 mm
Weight: 278g
Other Feature: Passive Cooling
                        Intel VT-d, VT-x, AES-NI
                        Support 4K video transcoding
                        H.264 (AVC), H.265 (HEVC), MPEG-2, VC-1
Pre-installed OS: CasaOS (Based on Debian)
Compatible OS: Linux / Windows / OpenWrt / pfSense / Andorid / Libreelec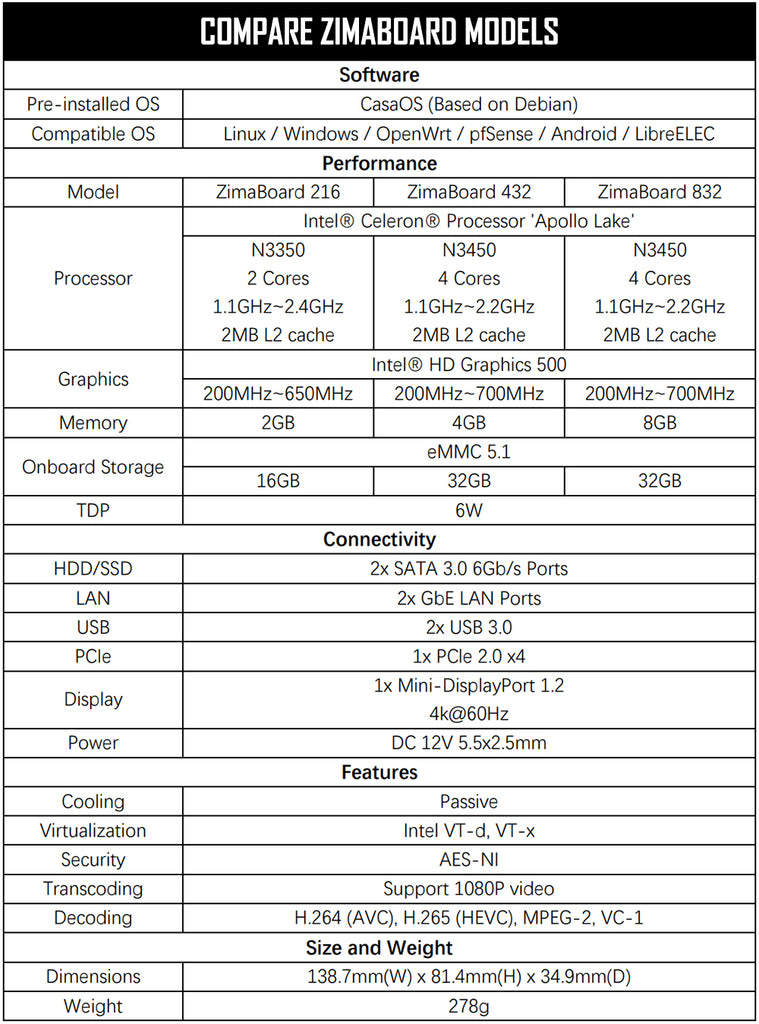 SHIPPING LIST
1x ZimaBoard 

216/432/832

1x SATA Cable
DOCUMENTS
A Perfect Step-Up from Raspberry Pi for Networking
If you're like me and you love using Raspberry Pis to experiment with networking and self-hosting, then the Zimaboard is the perfect next step to level up that experience.
About a year ago, I really wanted to scratch that itch and start spinning up more small services, but like many, I couldn't get my hands on a raspberry pi due to the long-running shortages. I stumbled across Zimaboard, and I'm very glad I did.
Pros:
- The size makes it a good drop-in replacement for a pi (depending on your mounts/enclosure), and for my usecase, which is running a small headless linux server, it's perfect.
- The expandability is excellent. Having standard PCI-e and SATA ports eliminates so many expansion and compatibility headaches. Most things are plug and play like any PC.
- The extra horsepower over the pi is noticeable, especially when doing database stuff.
- It's hard to beat the compatibility of x86, even though ARM compatibility has gotten pretty good.
- Subjectively, I like the design of the heatsink/enclosure. It looks nice enough to leave sitting outside a case.
Cons:
- I wish it was easier to rack mount. It's possible, but it requires 3D printing your own mounts, and I couldn't find anything on their store.
- The power draw is more than the pi, which is expected given the CPU. It's not too bad though unless you're running off a battery or paying a lot for electricity.
- The internal storage is a bit rough. 32GB is very small for any use-case, and while emmc is faster than an SD card, it still can bottleneck some server tasks. Luckily the expandability is good, but you'll want to install an external SSD.
- Mini DVI was an odd choice for display. I run headless, but I did have to dig around some old drawers to find an adapter to set things up.
All-in-all, for the price, you get a versitile product. I've been burned by small single-board startups before, so I was skeptical at first, but I'm running 2 Zimaboards now, and they are working great for my usecase.
I don't have much to say about CasaOS. It looks pretty slick for beginners, but I was more interested in a headless server, so I'm using Ubuntu Server on mine, and it works great.
a little gem - full of possibilities
While looking for a small but nice computer to use as a server at home, I found this little gem. Finally, it's no longer buried in the basement, but has found a nice place on my desk. Technically exactly what I was looking for, an SBC that looks great and has enough interfaces for hard drives. Highly recommended!
ZimaBoard - Single Board Server for Creators
ZimaBoard - Single Board Server for Creators
Excellent product and service
The product is very good and shipping was very fast overall. Nice service!