INTRODUCTION
Why buy a regular ZimaBoard when you can get one that's unique and not many people own? (For ZimaBoard Kickstarter backers only)
You are looking at ZimaBoard Kickstarter Commemorative Model, the current total global production volume is 100pcs. The product was inspired by an idea proposed by Marcell Hug through Kickstarter Comment in March 2021. However, due to differences in production and processing technology, as well as output issues, for the time being, the team only used the proofing process to proof 100 sets of samples. There is no combined manufacturing with ZimaBoard's mass production order.
Project ZimaBoard was able to be established mainly because the Kickstarter crowdfunding was launched in January 2021 and received support from over 1800 backers and media sources including Hackster / Notebookcheck / TechRadar.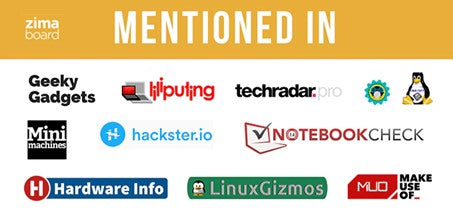 To commemorate and appreciate all the media and supporters who have allowed this to happen, we have made a dedicated page to express our sincere gratitude to all those who have supported us.
Note: Please include your backer number code during the checkout session. Any order without correct backer information will be deemed invalid.
SPECIFICATION
Model: ZimaBoard 832
CPU:  Intel Celeron N3450 Quad Core 1.1-2.2GHz (432 & 832 Model)
RAM: 4G LPDDR4
Onboard Storage: 32GB eMMC
HDD/SSD: 2x SATA 6.0 Gb/s Ports
LAN: 2x GbE LAN Ports
USB: 2x USB 3.0
PCle: 1x PCle 2.0 4x
Display: 1x Mini-DisplayPort 1.2 4k@60Hz
TDP: 6W
Dimensions: (W x D x H) 138.7 x 81.4 x 34.9 mm
Weight: 278g
Other Feature: Passive Cooling
                        Intel VT-d, VT-x, AES-NI
                        Support 4K video transcoding
                        H.264 (AVC), H.265 (HEVC), MPEG-2, VC-1
Pre-installed OS: CasaOS (Based on Debian)
Compatible OS: Linux / Windows / OpenWrt / pfSense / Andorid / Libreelec
SHIPPING LIST
1x ZimaBoard 832 - 2021 Special Edition